LeakFREE® Drone Roof Inspection
Cert-A-Roof Introduces FAA Registered Drone Roof Inspection
Call our Professional Roof Inspectors at: 888-766-3800 to schedule your Roof Inspection appointment today!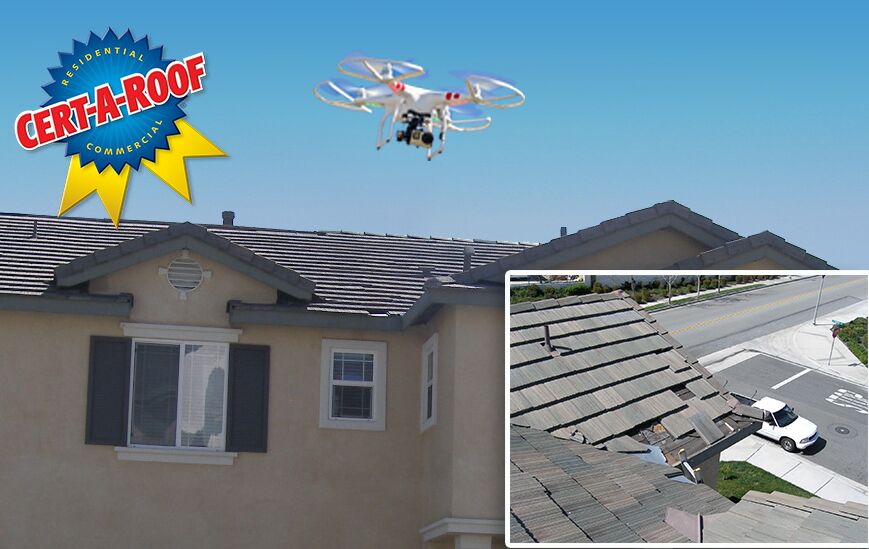 What's Included in Drone Roof Inspection
• Drone inspection of your roof will be performed by a NRCIA Certified Roof Inspector.
• Roof Inspection includes tile, metal, slate, concrete and composition shingle roofs
• A thorough drone inspection with an overview of the roof surface with special attention to all the critical areas including: pipe flashings, chimney flashings, valleys, vents & skylights.
• Photos will be taken of anything that is leaking or that has a likelihood of leaking
• A Drone Roof Inspection Report will be given to you within 24hrs of inspection complete with photo observations and recommendations of repairs or replacement.
• Estimates will also be included in the report.
• Link to Download eBook "Recovering From Disaster" on how to deal with homeowner Insurance Claims ($39.99 value)
Why Drone Roof Inspection?
There are certain roof types that you do not want anyone to walk on. There are types of roofing that are very fragile and there are steep roofs that are dangerous. For example, clay tile roofs are extremely fragile and break very easily. Metal roofs are weak and would dent with people walking on them causing unwanted damage and potential leaks.
Even if you do not suspect a roof problem, a huge advantage of having a drone inspection is that it documents the current condition of your roof prior to any storm damage.
What Our Roof Inspectors Request
• Recommended for home 2,500 sq ft. or less. $10.00 surcharge for every additional 100 sq.ft.
• Building must be under 400 ft. tall
• Video of the roof is also available for an additional $100.00
• Deal not valid for flat roofs, wood shake or wood shingles
• Roof Appointments are to be performed during normal business hours
• Standard cancellation policies apply
• Written estimates will be provided for any additional recommended work
• Deal not valid for wood shake roofs or wooden shingles
• This service provider has a phone call discussion with each customer first to discuss their unique needs and expectations before scheduling any execution of service
• Image may not reflect exact product/service
• Fair Price Guarantee available with purchase by Silver and Gold members (some exclusions apply)
• Service Quality Guarantee available with purchase by Silver and Gold members (some exclusions apply)
• NRCIA – National Roof Certification and Inspection Association
Watch this video to learn about our roof inspection process.
The Process
Before purchasing a new home, it should always be inspected by a Cert-A-Roof Inspector for a thorough examination. Due to generations of experience, we know that more than 80% of rooftops on houses for sale contain costly preventable damages or leaks
During the LeakFREE Roof Inspection process, it is the objective of the inspector to qualify the roof for a LeakFREE Certification. In order to accomplish this, our inspectors are highly trained to recognize necessary roof repair work and for conditions which might cause a roof leak in the future.
Following the NRCIA roof inspection protocol, a trained specialist visually first examines the walls, ceilings and attic inside the house to verify any evidence of a roof leak. Evidence can be seen as stains or discoloration in the roof penetrations, near the attic vents, near the center point of the comjunction of two roofs (known as valleys), around any chimneys, or in the sheathings for the roof. Any evidence found during the initial visual inspection of the roof tells the roof inspector what to examine most closely during the roof's actual inspection.
The next thing the inspector examines is the perimeter of the building. This is to look for further evidence of leaks or damage. This includes verifying if there are any water stains on the outside of the building or under fascia boards, as well as looking for any dry-rot or damage on the rafters or in the eaves.
Once the interior and perimeter visual examinations are complete, the inspector visually (non-destructively) examines the roof itself. Every roof type has common crucial areas and all of our specialists are trained to pay special attention to each of these potential trouble spots.
Lastly, the inspector will create and deliver a thoroughly written report. Only our proprietary Inspection PLUS® roof inspection software can generate a written roof inspection report that includes digital photographs, detailed notes and a estimate of repair costs. The roof inspector sends the report within 24 hours of the inspection to show the homeowner (or homebuyer, home seller, or their real estate agents) what is needed to qualify for a LeakFREE® Roof Certification.
Key Benefits of Cert-A-Roof LeakFREE® Roof Inspection
Five star reviews from real customers
Fast, friendly and knowledgeable customer service
Clean, reliable service technicians
Specified and prompt time of arrival
Standardized inspection process
Electronic photographic reports
Standardized result analysis
Standardized recommended pricing
Standardized LeakFREE Roof Certification Plus Warranty
Extended roof warranties available
Renewable roof warranties available
Transferrable roof warranties included
Preventative maintenance inspections included if certified
Looking for quality roof inspection? What describes you best?
Call us now to schedule your LeakFREE Inspection
Don't wait another day without protection and peace-of-mind!
(888) ROOF-800
(888) 766-3800